Alberta education minister talks with Postmedia about challenges
Alberta Education Minister Demetrios Nicolaides promises to tackle enrolment pressures and also support students struggling with mental health and food insecurity
Article content
Demetrios Nicolaides, the UCP government's newly appointed education minister and MLA for Calgary-Bow, spent some time with Postmedia's Eva Ferguson in a Q and A this week discussing the unique challenges facing Alberta's rapidly growing K-12 school system. The minister vowed to address enrolment pressures and also support students struggling with mental health and food insecurity. Questions and answers have been edited for brevity and clarity.
Article content
1. Many factors have contributed to unprecedented growth in K-12 schools, record migration from other provinces, refugee newcomers arriving from wartorn regions, and many kids returning to in-person learning since the pandemic. But while the province has increased funding by five per cent provincewide, parents and educators are saying it's not nearly enough to support students in overcrowded schools. How do you know if the system is being funded enough?
We are seeing a lot of population growth from other provinces, and it is quite significant. It's at a level we haven't seen in this province in decades. But (in terms of funding) we'll look comparatively at other provinces and see how we stack up, and work with school divisions and get their assessments. They know best. If we can have strong, open communications about what we need and where we need it, that's a good bellwether as to whether we are hitting the mark.
But the enrolment challenges are abundantly clear to us. And we have addressed that in Budget '23, providing a new supplementary enrolment grant … that has been implemented to help school divisions that are dealing with a lot of growth.
Article content
As well, the premier's letter addresses growth specifically, where she says we should work toward significantly expanding the number of schools in growing communities. That is very clear, and we intend to do just that. My intent is to look at communities across the province, see where we have the greatest need, which communities have the most need, where are we seeing populations increase and where are people going. … In a few months we'll be starting the process of submissions to the Treasury Board and budget deliberations, so we intend to look at all of that.
2. Alberta Education approved funding for 11 Calgary school projects, yet local districts have only received full construction funding for two. Public school officials have said there is still no information as to when these other projects will get funding and move beyond the design, planning or pre-planning stages. When will that happen?
School divisions that have been awarded pre-planning and planning or other funding should be receiving those funds that were made available in Budget '23. The new process that was introduced with new phases related to school construction, I've received a very positive response from school divisions. I was just at a conference with many representatives from many, if not all, school divisions both in person and virtually. And many were expressing appreciation of the new approach because it helps and gives school divisions an understanding as to which priorities are important for the province, and which ones we are most interested in moving ahead on.
Article content
But we don't want to award full construction funding to a project that is not quite ready to go, where the site isn't fully serviced yet, or land isn't cleared or levelled. This will make sure that when a school is ready for full construction funding, you can put shovels in the ground immediately.
3. Why won't the government bring back class-size reporting, to ensure funding is being balanced appropriately. Because we do know there are some schools with low capacity and smaller class sizes but there others that are well over what they should be. If you are confident schools are being funded appropriately, why not provide that transparency?
The best way to ensure that we have appropriate class sizes is best determined by our school divisions, and that looks different for every school division. Fundamentally, there are two key things we need to do to address class sizes: No. 1, add more physical capacity, which the premier's mandate letter directs me to do. The second piece is to make sure we have adequate staff, teachers, educational assistants and others.
In Budget '23, targeted funding was made available to help support the recruitment of more teachers, educational assistants, psychologists and speech-language pathologists to provide the necessary support students need. I'm very confident, if we continue to hire more teachers and support staff and build more schools, we will be able to help manage a lot of the unprecedented growth we are seeing.
Article content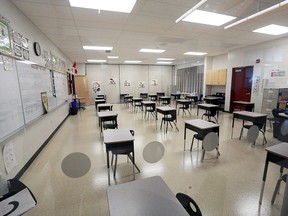 4. Since the pandemic, a lot of students are struggling with mental health challenges in schools, from anxiety and depression to self-harm. What does the province intend to do to support these students?
It's very clear mental-health concerns are growing in our schools and our society as a whole and it's been further complicated by the pandemic. It's a priority for our government, not just for me in education but also the entire government. Back in 2019, we were the first government in history to establish a ministry for mental health, dedicated to addressing these issues.
In Budget '23, with respect to education, we provided new funding to help school divisions to create pilot projects, up to 80 across the province.
No two corners of our province are the same, no two school divisions have the same challenges and needs. Sometimes mental-health supports in one school division will be different than another. The pilot projects will help us really identify what's needed and where it's needed, and more importantly is it working. Once we see those results we will have some good data and analysis to help us develop some longer-term solutions.
Article content
5. Families with school-aged children are also struggling with the cost of living and food insecurity, and there are nutrition programs in some schools funded by the province. Is this something that needs to be more of a priority and receive more funding in the future?
The government is very concerned about inflation and the rising cost of living. Additional funding was made available in Budget '23 to help strengthen and support nutrition programs. That will continue to be a real priority, especially as we look to Budget '24. I am personally very interested to see where cost of living will be at then. Are prices coming down, are families still struggling and are there things we can do to help support programs like that? As well, there are a lot of incredible non-profit organizations that do amazing work to help us support students. I've been able to pop in to see what they're doing. … I am always happy to work with different partners and explore different ideas and see what works best.
6. Alberta Education is gathering feedback on the postponed K-6 Social Studies curriculum, including parent surveys through local school districts. Will the province be sharing any of those results publicly?
Article content
We are having a lot of in-depth conversations right now with partners in education, including school divisions, First Nations, Métis and Inuit communities and leaders about what the curriculum should look like. I want to collect all of that feedback including the ongoing surveys to help inform what the final curriculum looks like.
That process will continue to the end of the year, possibly into January. But I'd have concerns about releasing some of that feedback right away, because we are still collecting feedback from other groups, including the surveys and information from parents, and have the conversations as well with subject matter experts from post-secondary institutions.
When we have something that is looking close to being finalized, my hope is to then publicly release that and invite perhaps more feedback in the new year.