Experiencing the outdoors plays an important part of an Episcopal education | Features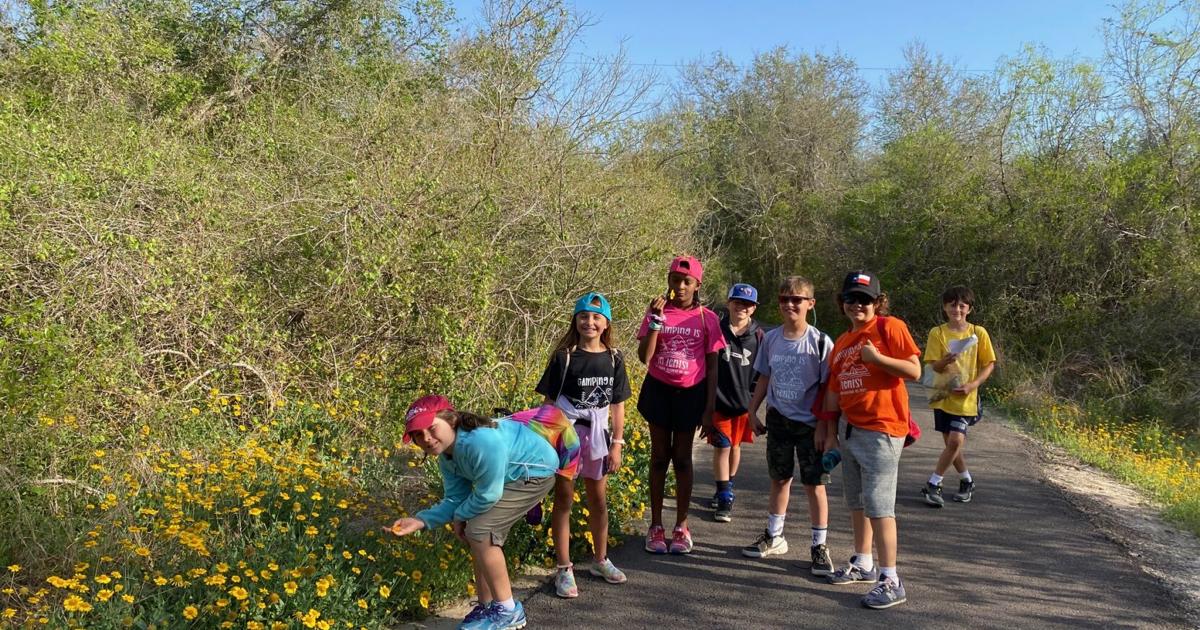 Getting back to nature is more than just a saying at Trinity Episcopal School. It's an integral part of Episcopal education throughout the nation.
Head of School Kristy Nelson explained that outdoor education is a basic tenet of all Episcopal schools.
"Here, in some form or fashion, they've been doing it for about 50 years. The current iteration of outdoor education involves overnight trips, to different camps, campsites, different areas of the state. The students are out for longer periods of time as they get older. We start in fourth grade and continue on through eighth grade," she said.
This outdoor education involves everything from science to history, from mathematics to physical education. It also has a faith component.
Trinity fourth graders recently returned from a weekend trip to Goliad State Park.
"We always try to coordinate with a park ranger," said Nelson. Trinity collaborates with the Texas Historical Society, as well as people who run the missions in Goliad.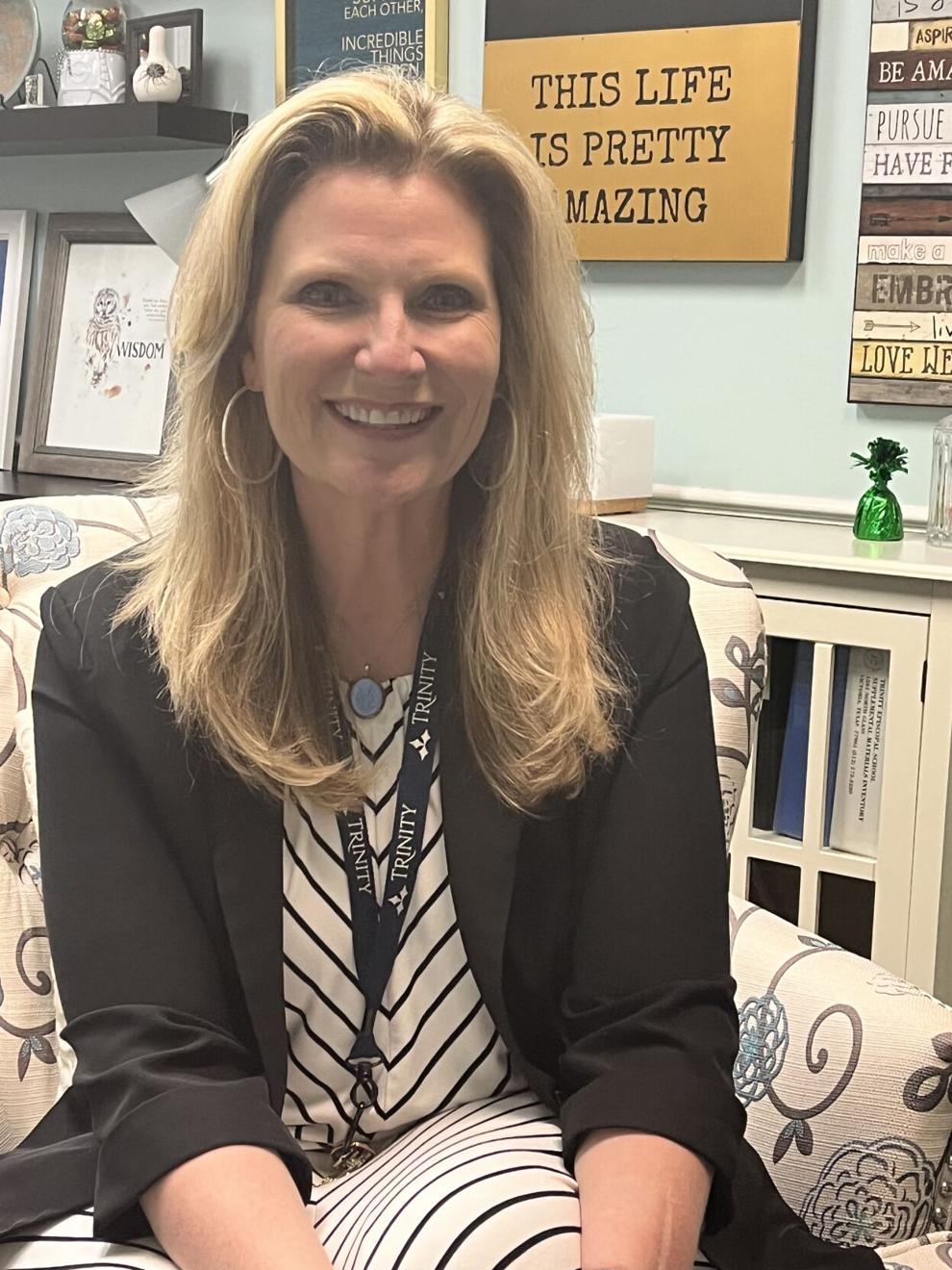 In fifth grade, they go to Camp Allen and "learn about survival training — what do you do if you get lost in the woods? How to make an emergency lean-to. What are things that are safe to eat in the woods? How to start a campfire," Nelson said.
The sixth graders are experiencing something new this year.
"They're going to Matagorda Bay. They will meet up with a park ranger. And they will go crabbing for research purposes and look at the different parts of a crab, and they will camp in tents on the beach. And they'll go out on the Texas A&M research vessel," Nelson said.
Their seventh grade program focuses on leadership. They do a ropes course in the Hill Country. One night involves overnight camping at Enchanted Rock State Park, and they climb Enchanted Rock, a pink granite mountain in the Llano Uplift outside Fredericksburg. They climb it by moonlight and go caving.
Eighth graders go on the longest trip. Five days.
"We go to West Texas and stay at a dude ranch," Nelson said. "There's a lot of horseback riding, a lot of hiking. … The kids also go to McDonald Observatory … the astronomers speak to them, and they get to use the telescope."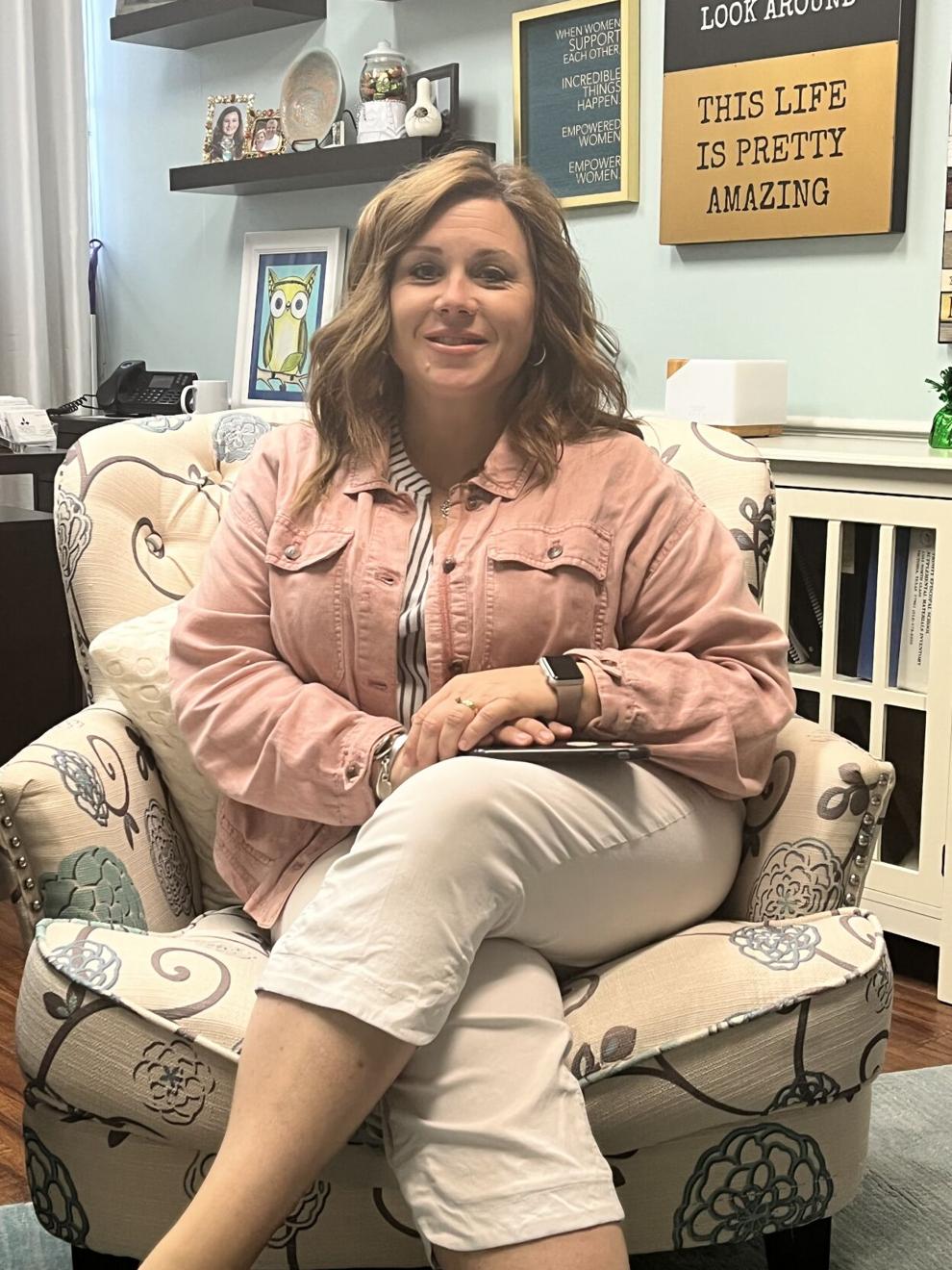 Teacher Jamie Biles said the fourth-grade group was relatively small this year. She said the students bond in a different way on a camping trip such as this as they have to work together, help with meals, put up their own tents and keep them clean.
By "being out in nature," they see things that tie in with creation, Biles said, adding there is "bonding and teamwork," and discovering that "what we do in the classroom ties in with real life."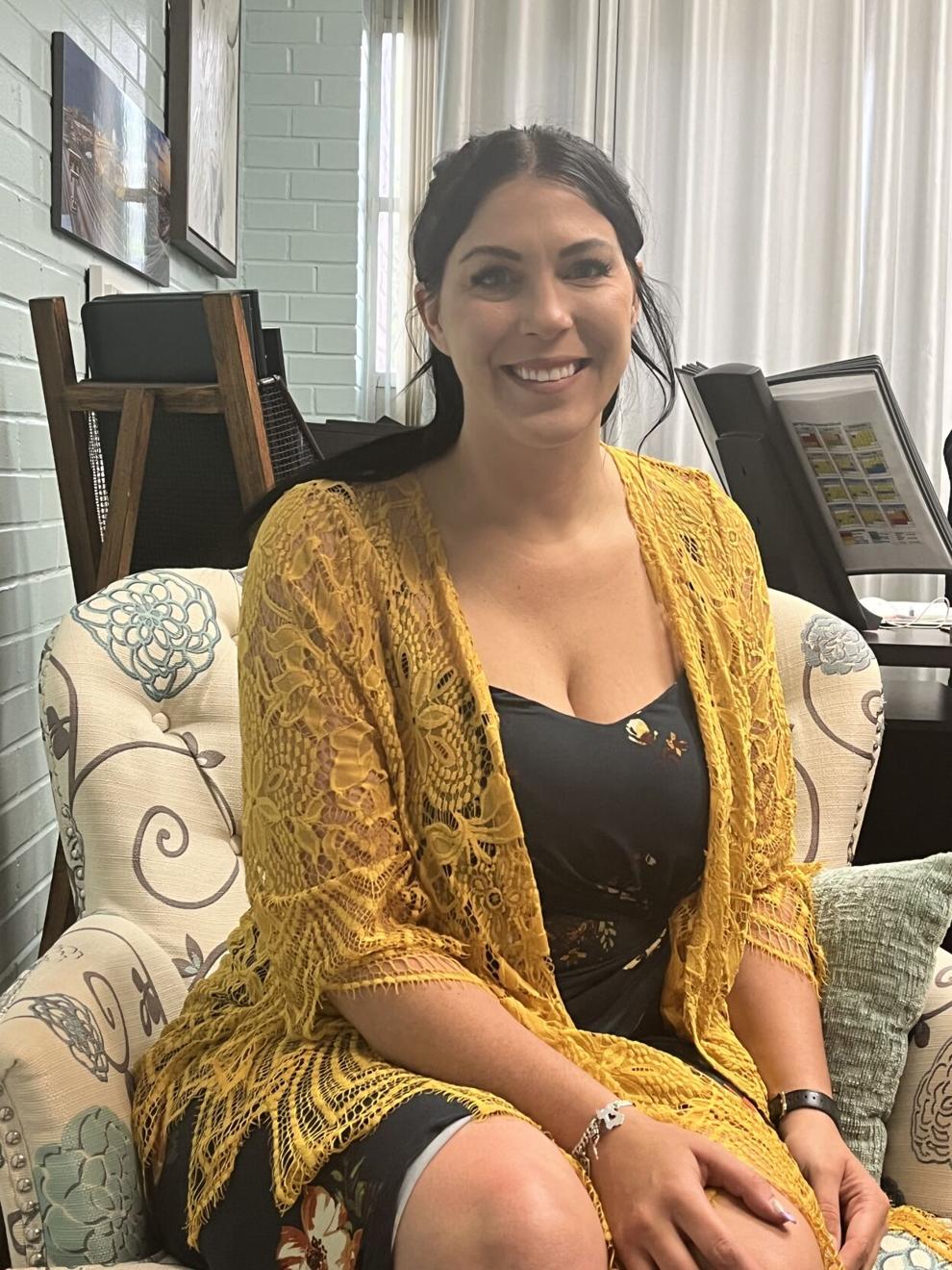 Fourth grade teacher Bobbie Sala said these trips help students "explore and use their creativity" while also providing a chance to bond.
"It gives them some independence because we're not holding their hand along the way," she said. "They all had a chance to be responsible for themselves and be independent. And I know that was new for some of them. Which was great."
Rhys Bartholomew, a fourth grader who went on the trip said "I love just being outdoors instead of just getting locked up into the house. And I liked hanging out with friends and then camping at night since I'd never been camping — only in an RV. And I just liked listening to all the bugs and coyotes."
Rhys said the best part was "hanging out with friends and going to Presidio LaBahia and seeing history. Then going on a nature walk and seeing like a big, really big, old furnace that makes clay."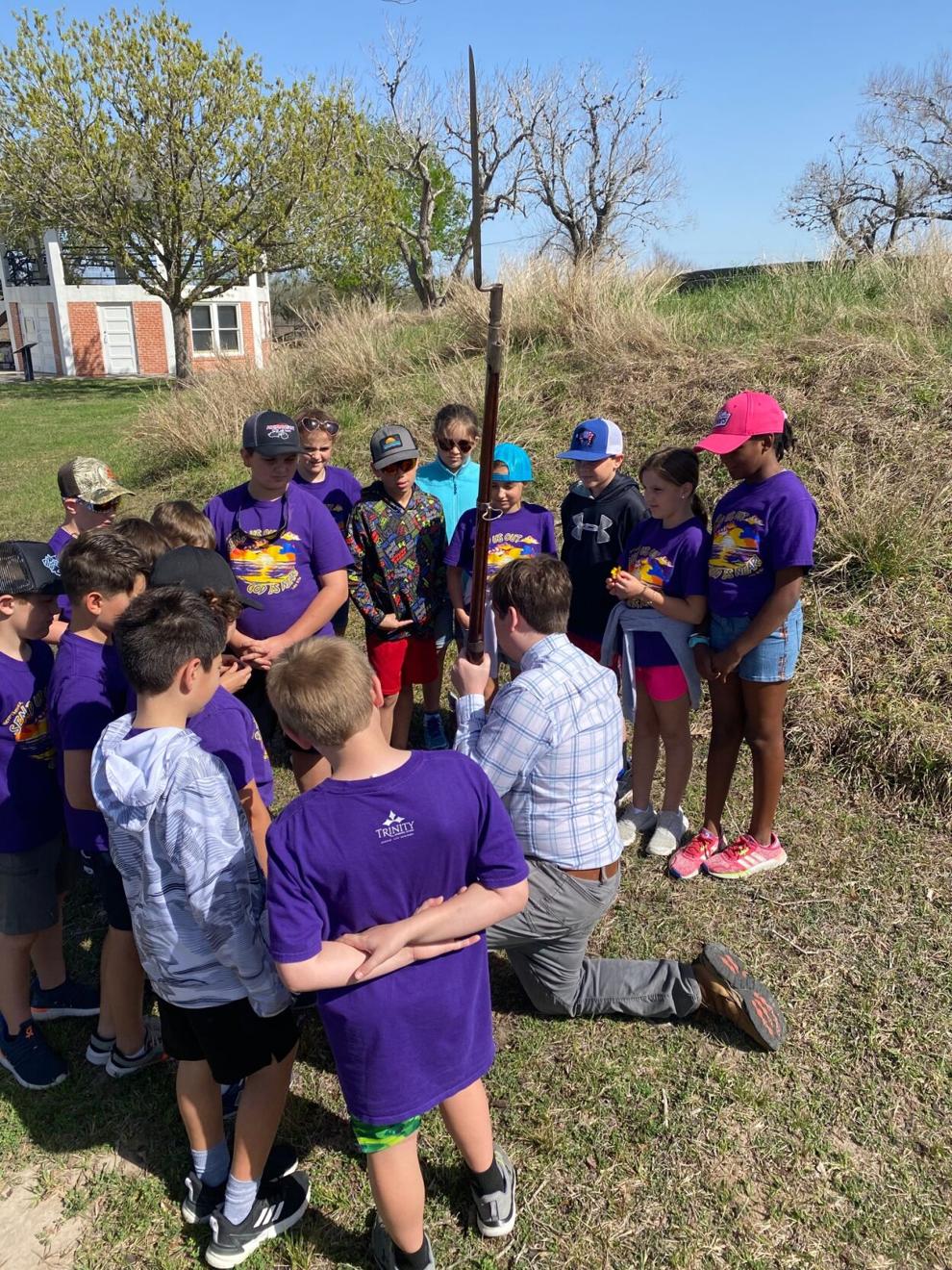 He also enjoyed learning how dyes were made for string and searching for bugs on cactus. Evidently, there were "a whole bunch on cactus," he said.
Fourth grade student Victoria Osuchukwu said she also "liked how we got to interact with our friends more than at school. And we got to experience spending a night with them in a tent. It was my first time in a tent at night."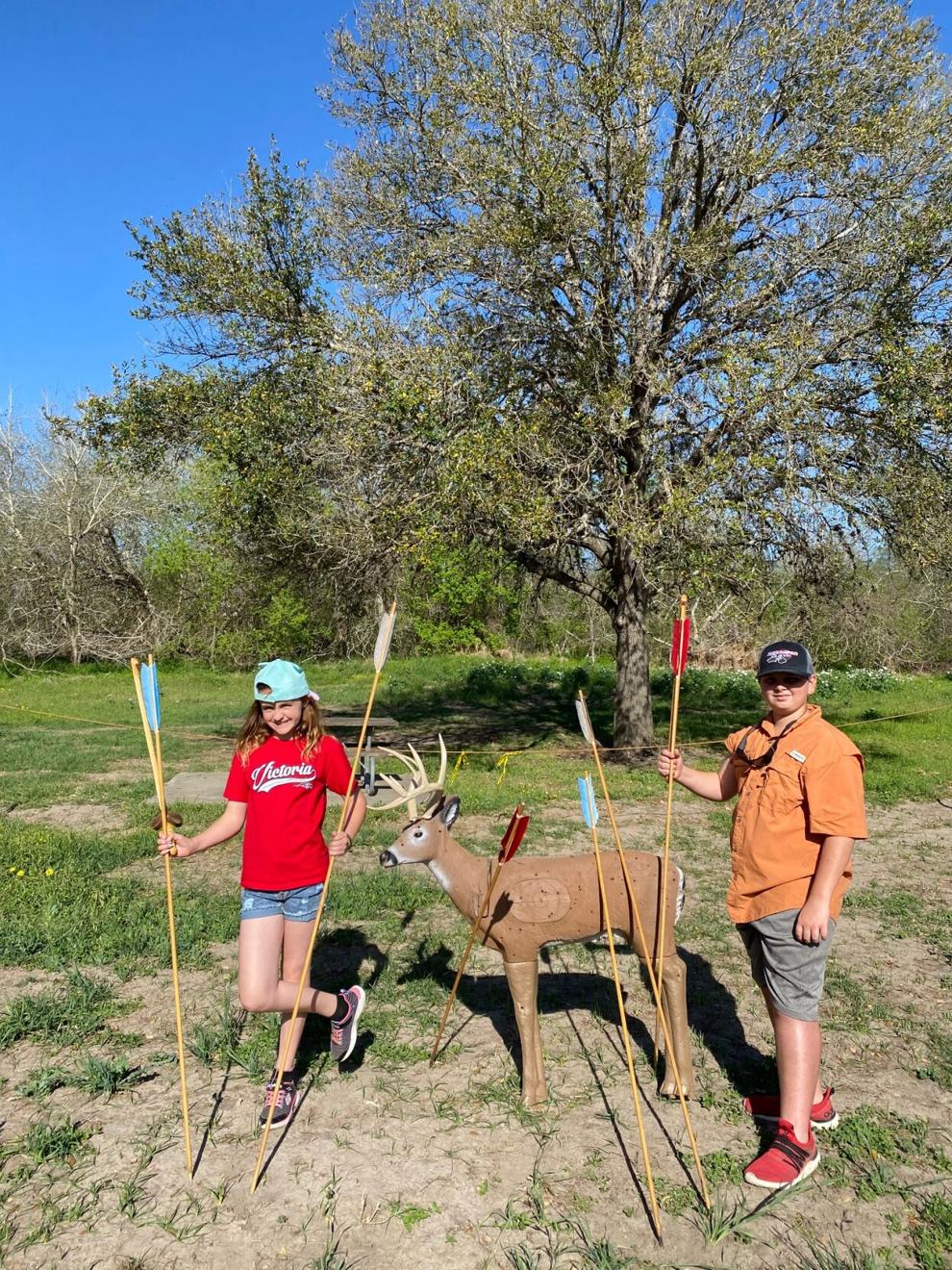 Victoria said being in the tent "wasn't scary, but it was cold."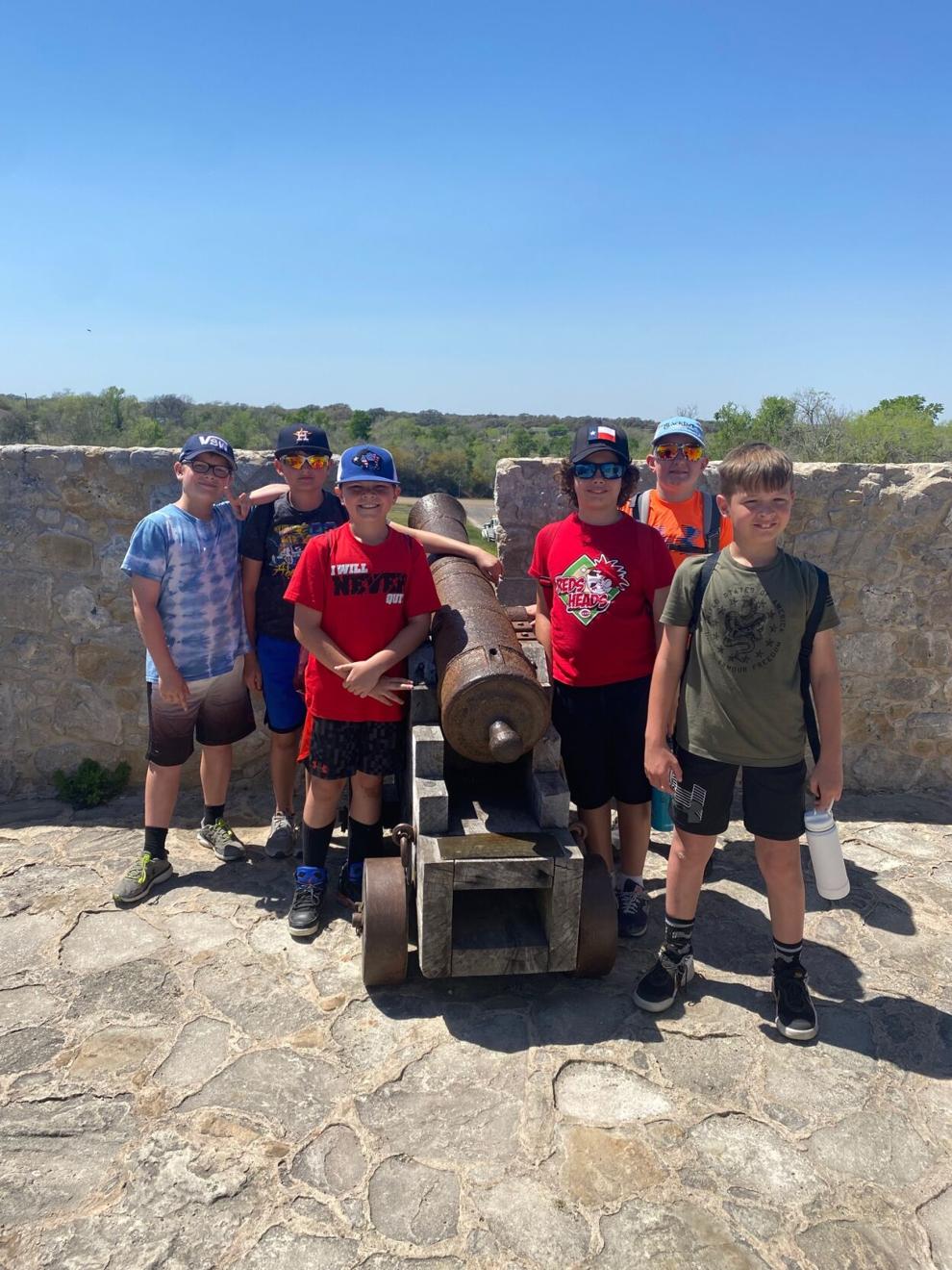 She most enjoyed a hike the group took on a trail at Presidio LaBahia, saying "we took a wrong turn, so we walked like four miles." Along the way, they had a scavenger hunt and had more time to just enjoy each other's company and get to know their teacher better as well. They created characters from leaves and flowers.
Victoria worried that some of the leaves "were poisonous and were going to make my hand bubble."
She also was not a fan of bugs, especially spiders. The girls found one crawling in their tent.
"We whacked it. Well, we trapped it in our window and then we started hitting it with the broom," she said.
However, Victoria definitely liked camping, despite the spiders.
"Cuz I just like not being in the house," she said. "And it's just fun cooking — not in a house with the stove. But you can cook outside."
Jackson Grunewald, another fourth grade student who became a bit of an outdoors enthusiast, is definitely not afraid of bugs. He actually caught one — a roach.
However, when he brought his treasure close to his teacher, Bobbie Sala, to admire, he got more of a response than he bargained for.
"I screamed like a little girl," Sala said, laughing.
Jackson said he loved going on the Fannin Battleground tour where they got up close to a real musket and learned how it worked. He said they learned about how much harder life was long ago, "not having phones and stuff." His friend Rhys jumped in and added "especially medical supplies — the flu could kill you!"
Jackson said he loves going camping, but the school trip was best because going camping "with a bunch of other kids was even more fun."
Victoria said they did prayers at night together in the girls' tent "because some of them were kind of scared. We heard some things like coyotes."
Jackson said being outdoors made "you just feel more. You feel like you're praying to God like back then (in the past) when there was no technology and stuff — you feel more like that."
So what was the best part of their outdoor education? For Victoria, it was "staying up late." For Rhys it was "hanging out in the open." For Jackson, it was "a chance to explore outside the classroom."
All three mentioned making s'mores over the fire as a real highlight. They also tried cooking "Peeps," but they said that didn't turn out too well "because they got hard." Rhys joked, "they're fire resistant."
These experiences are designed to create memories, said Nelson.
"They sit around the campfires, and they talk. They learn about the other people around them and get to pray together under the stars," she said. "It is an experience that is hard to describe because it is so vast and you feel so small, and yet you feel so connected. That is something you can't teach. You just have to experience it."