Sask. teacher who excels at early STEM education gets national award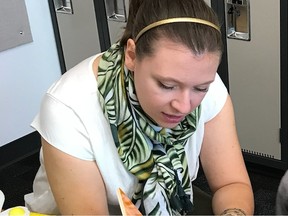 Kara Fidelack, who teaches in Hudson Bay, Sask, is one of four recipients of the 2023 Prime Minister's Award for Teaching Excellence.
Article content
Two years ago, Kara Fidelack had a sizeable group of 30 students in her Grade 1 class and confronted a nearly impossible task: cover a wide-ranging curriculum in a way that accommodates children's different learning styles.
Fidelack devised a play-based system, dividing her large classroom into groups of six, each given an activity that would allow students some agency in understanding the lesson.
Article content
"I see (play) fully phased out as the kids get older and older," Fidelack said. "The demands of the curriculum are a lot higher of teachers, so they feel they have to cover a lot more."
Fidelack, who is in her eighth year of teaching in Hudson Bay, Sask, is one of four recipients of the 2023 Prime Minister's Award for Teaching Excellence. The honour recognizes educators' commitment to preparing their students for a digital and innovation-based economy.
Play-based learning and the earlier introduction of science, technology, engineering and mathematics (STEM) concepts, as well as computational learning, could help close the gender divide that studies have found starts to form around Grade 5, when boys gain a slight advantage in those areas.
"How do we bring that contextual understanding of sciences down into everyday life?" said Lindsay Shaw, program development manager at the national charitable organization Let's Talk Science.
The organization has been bringing similar methods of play-based learning into classrooms across Canada. It seeks to build on similar concepts of play-based learning that focus on education and skills development for children and youth in Canada through STEM.
Article content
"Things like logical thinking: how do we recognize patterns, algorithmic thinking, testing and evaluating. But even just being flexible or comfortable or creative with the unknown is what we talk about when we talk about computational thinking," Shaw said.
Programming and resource allocation, including STEM initiatives, fall under the mandate of school divisions in Saskatchewan. The provincial government plays a direct role through partnerships with organizations like Let's Talk Science, providing its server network for the organization to broadcast its LIVE STEM teachers workshops and lessons for students.
The network's stable connection helps make rural communities more accessible. In 2021, the Federation of Sovereign Indigenous Nations (FSIN) also signed a memorandum of understanding with the Saskatoon Industry Education Council to increase STEM learning opportunities across its communities.
"Programs like that have done a lot to elevate the conversation around STEM in education," Shaw said.
To date, SaskCode has provided innovation-based STEM learning kits and workshops to 25 out of 27 school divisions in the province.
Article content
The increasing use of technology in agriculture, including drones and various forms of artificial intelligence, calls for earlier and better understanding of such technologies, Shaw noted.
Fidelack said she attributes the success of her play-based learning system to her students and colleagues. Her approach would have been very difficult without a system that supports such innovations, she said.
"I don't think any educator could be excellent if they aren't in an environment that is conducive to striving for excellence."
Kimiya Shokoohi is the Local Journalism Initiative reporter for the Saskatoon StarPhoenix. The LJI program is federally funded by the Government of Canada.
Related Stories
The Young Naturalists program helps Saskatoon kids understand biodiversity

Marc Spooner: How can Saskatchewan universities best serve the future?

STF says gov "choosing to shortchange" students as budget sees $2B in school operating funds
The Saskatoon StarPhoenix has created an Afternoon Headlines newsletter that can be delivered daily to your inbox so you are up to date with the most vital news of the day. Click here to subscribe.
With some online platforms blocking access to the journalism upon which you depend, our website is your destination for up-to-the-minute news, so make sure to bookmark TheStarPhoenix.com and sign up for our newsletters so we can keep you informed. Click here to subscribe.